Have you ever run along the beautiful sceneric route of Himalayan mountains and river? If not, I would like to introduce you to one of the most memorable races for me "Bhutan International Marathon 2020". I myself participated in half marathon and it was spectalular race for me! Recommend for people who seek for more challenging race in higher altitude route and beautiful sceneric view.
Location : Punakha, about 3 hours drive from Timphu (Bhutan).
How to get there : If you want to travel to Bhutan as a tourist, you must do it with authorized tour companies or you have to get an invitation letter from Bhutanese friend/family. I did it with a tour company (5days trip combinding with other cities sightseeing as well).
Race category: only Full marathon (42.2 KM),and Half marathon (21.1 KM). The special thing is that you have to run in a high altitude route (about 1200 m above sea level)
Course Map and info :  more at Race Information
Before Race Day:
Registration : Fees are different for local, SAARC and international runners
As I am a foreigner, the fee is shown as following
International Registration Fee – Marathon        : USD $ 175
International Registration Fee – Half-Marathon: USD $ 125
for more details you can find at Fee info
Race kit collection : at the new multi-sports hall in Khruthang, the time was changed twice but I got notice from the race management team via email. Later on the same day, runners were required to attend race brief. At the briefing, you will be informed about meeting point and time for transport to starting point, cut-off, route, aid stations. For 2020, there were total 250 runners for both Full and Half marathon.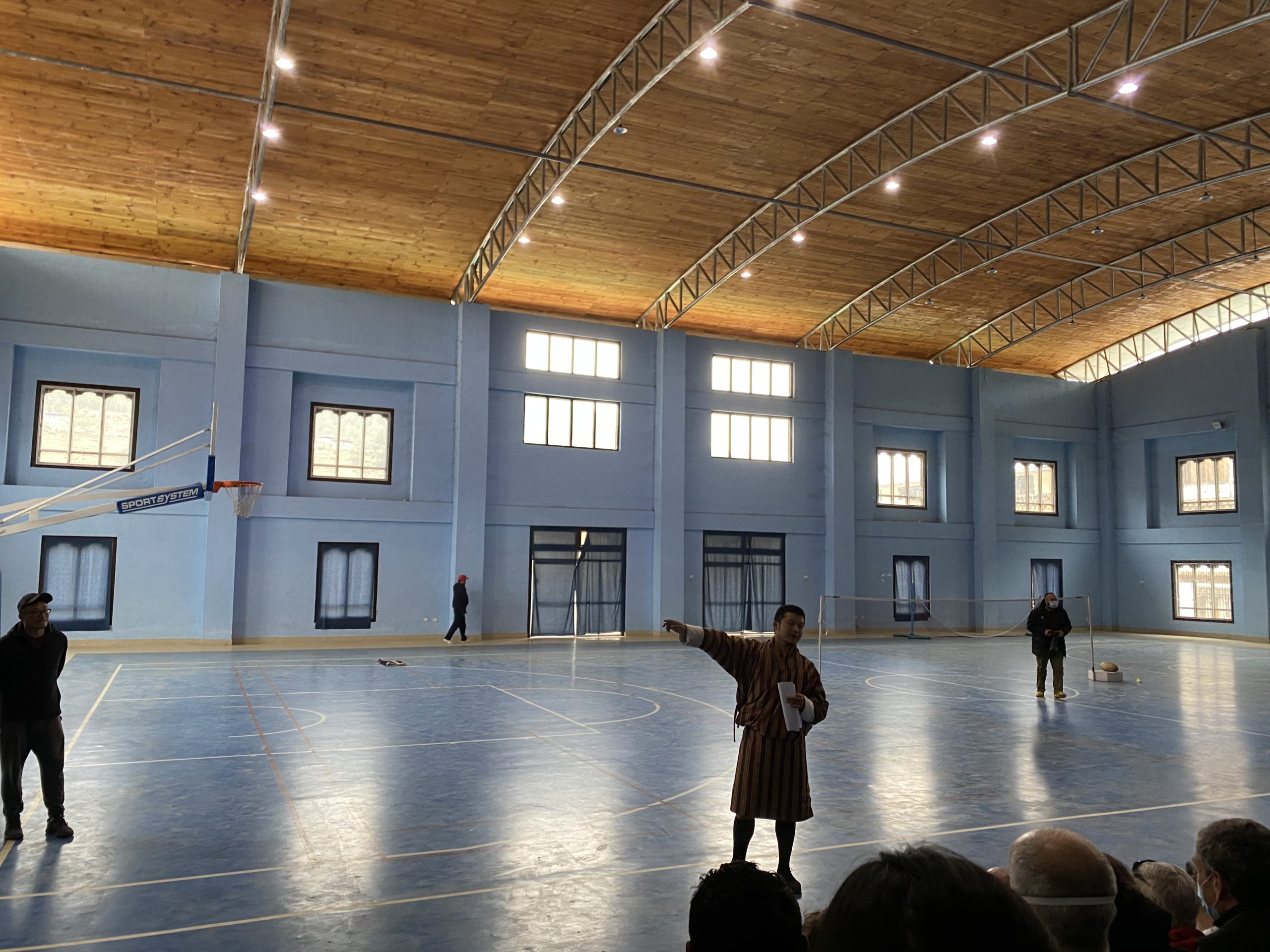 Race Package : Pretty simple race kit. You will get a yellow bag, T-shirt, race bib, and safety pins. I like the T-shiirt, white with light and good material.
On Race Day :
Starting and finishing point : You will get a free transport to the starting point in the morning of the race day (for Full marathon departure at 5:30 am and Half marathon at 6:00 am). We were informed that no car is allowed to enter the starting point. For Half marathon we started at Aid station no.4. Finishing point is near Punakha Dzong which is one of the iconic attractions of the town. At the starting point, there are rice, soup and drink provided for those who need to charge their energy (bus arrived there 6:30 am and race starts at 8 am).
Water and aid station : every 5 km and the half way near the finishing point every 2km (I found there are some fruits, sweets, tea at the last 3 aid stations). Although it was not many staffs but they worked efficiently and gave runners full support. Toilets are limited and they are not presant ones as you may expect.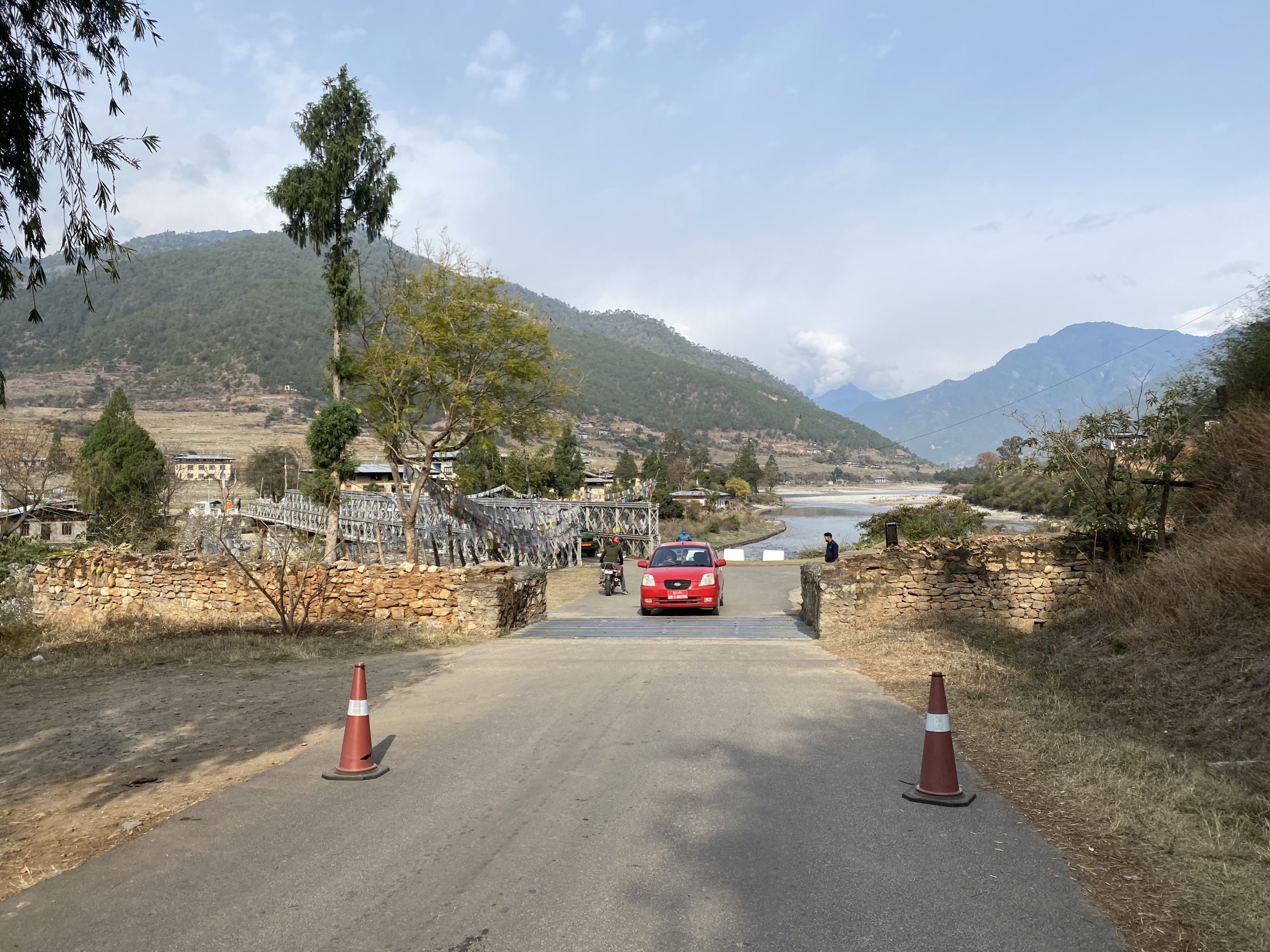 Storage : You can leave your stuff in the yellow race bag at the starting point with race staffs and they will transfer them to the finishing point for you.
Atmosphere/ Race moment : The first half way for half marathon is to run along the mountain road with a beautiful view of river. I quite enjoy my first 10K although the road wasn't closed. You might bump into a group of horses and donkeys. Many local people and some kids come to spot the race. Some parts of the road were rough ( I mean the surface is not smooth). I need to mention that the course is like running up and down the hill all the time. Last 3 km towards the finishing point I found it was a bit dangerous because there are many cars drove very close to me.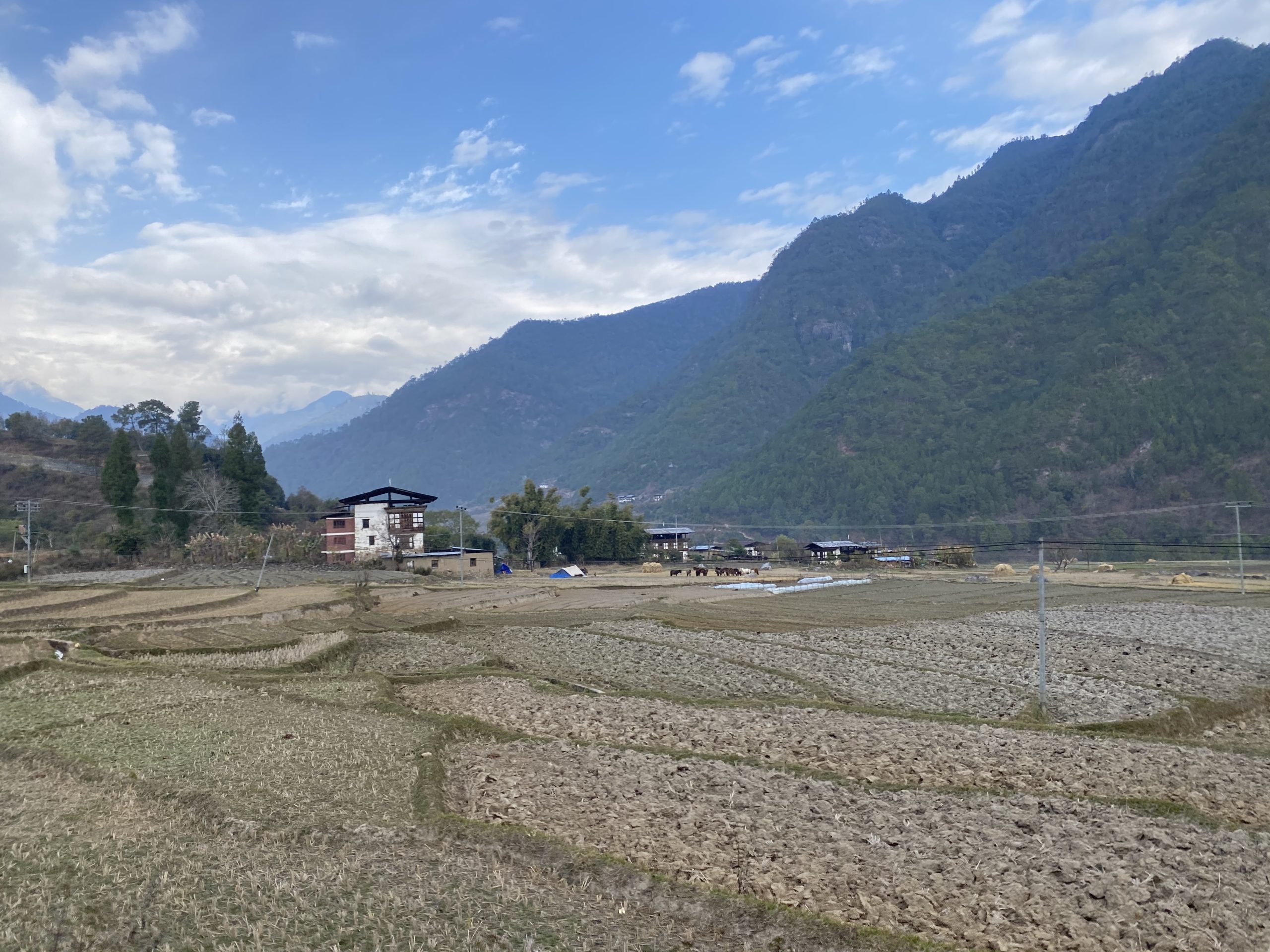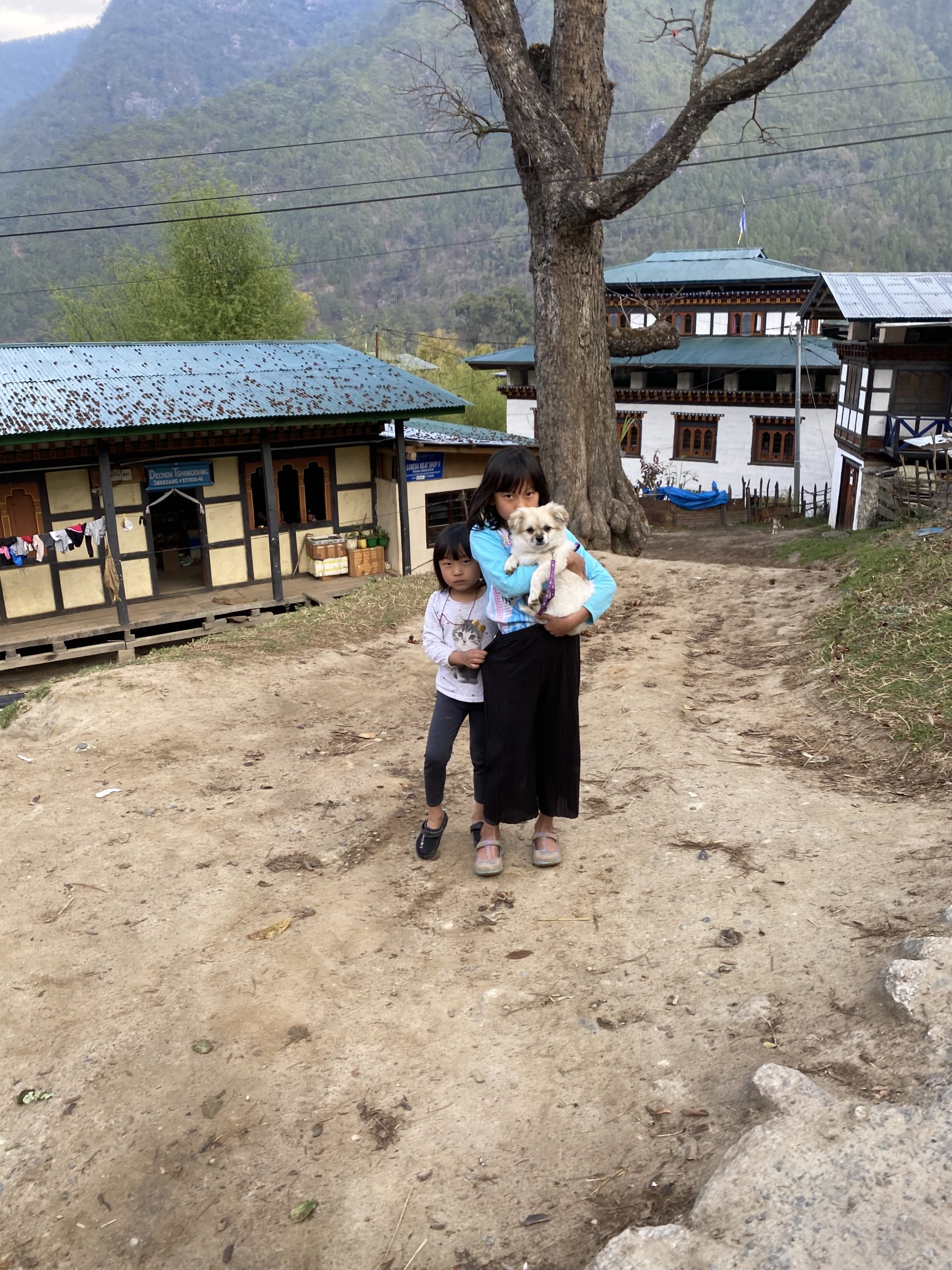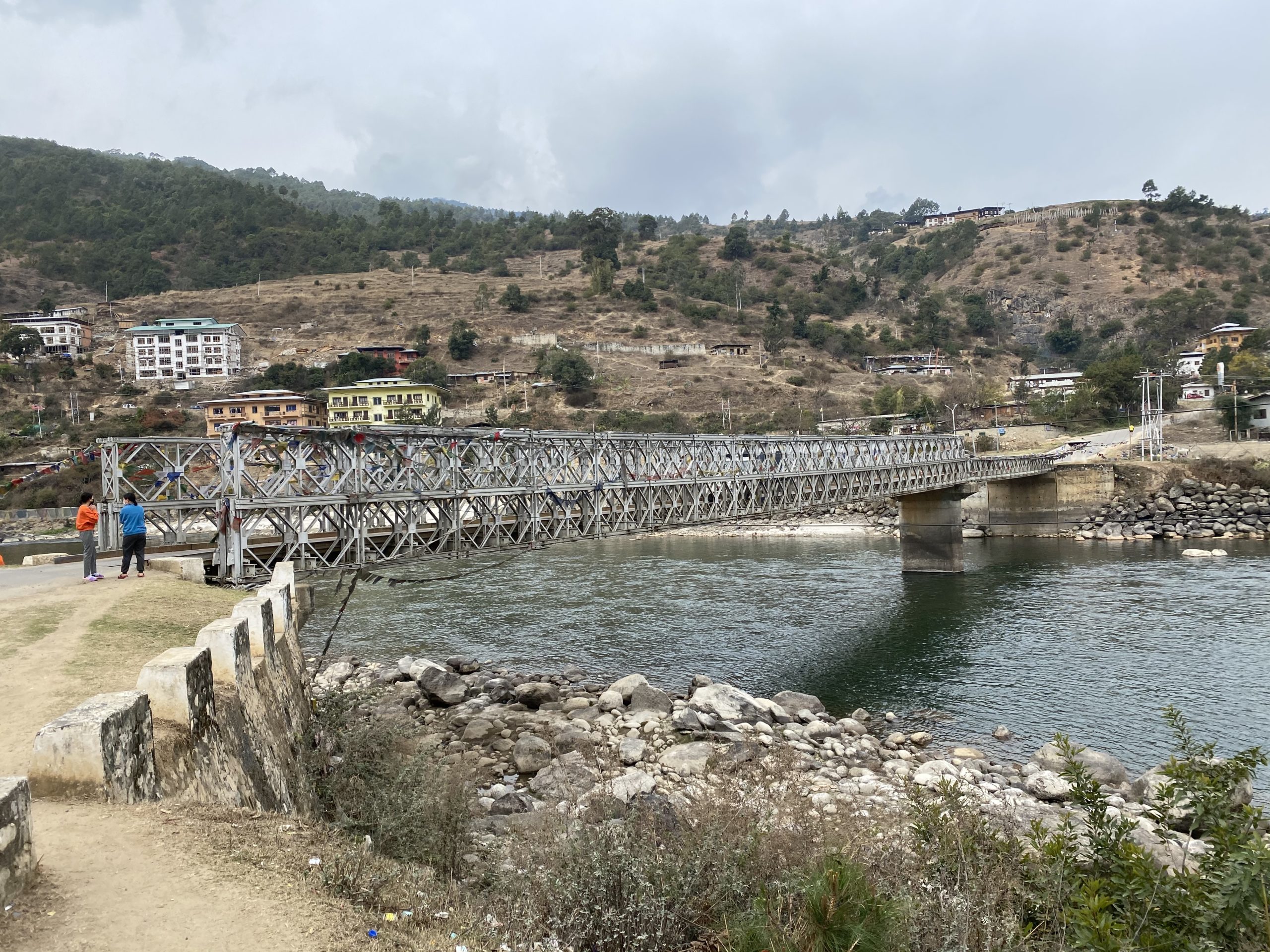 Highlight : Around half way you will run through one of the most spectacular bridges in Bhutan. The Pho Chhu suspension bridge is my most memorable of this race. This bridge is the longest suspension bridge in Bhutan which gives you spectacular views of Pho Chhu Valley (around 160m).
Result : can be checked here Race result 2020
Once you reach the finishing line, you will be given banana, juice and water.
I ended up finishing 2:19 hrs (longer than I expected but it was my first time to run at higher altitude so I will keep practicing! )
Overall, I am very happy with the race as well as the Bhutan trip. The country is beautiful and people are nice, calm and kind. I hope to participate in this race again in 2021! See you next race 🙂